The trailer has just had the lights replaced it needs some work and a paint job. We think it is home made. The floor is decent. The tires are decent. The back bar where the step in gates latch can be removed for loading purposes. The wood on the ramp load part needs to be replaced but has no problem holding an 800lb horse. I have used the trailer for training purposes. It takes a two inch towing ball. Below are pics from the inside out including the hitch set up, a close up of tires and how the tires are set up. I don't have electronic brakes so do not know what they are but they are there. We are located in Monticello, Ga 31064 in Jasper County. You will get the original bill of sale plus a new one from me. It is a first come first serve cash bases. The trailer is 22 feet long by 7 feet tall by 5 feet wide. ANY QUESTIONS CALL 706-819-8047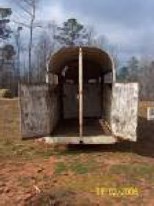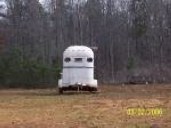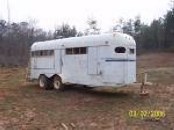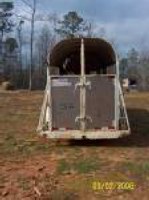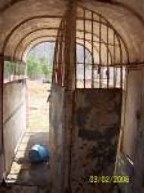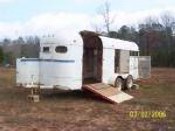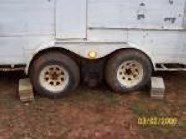 All DOGS ARE REGISTERED UNLESS THEY ARE FREE!


ENGLISH SETTERS
Double registry available. Graenteed to hunt. Already point bugs and already have the bird drive. Been exposed to a flight pen with quail. Out of a Top Gun Shot Gun Dam.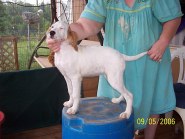 Chubby Charub
Sweet Pea Sold!
Sa sue has 2 Pure Pups available they where born May 16, 2006 weaned July 1 2006 For information on this litter call 706-468-1001
---------------------------------------------------------------------------------------------------------------------------------




MORE PICS COMING SOON!
*Feathers has 4 pure pups available born July 4, 2006 For information on this litter call
706-468-1573
2 lemon drop Females, 1 Black and White Female, and 1 Black and Tan Female.

*CHIHUAHUA born January 6, 2006 For information on this litter call 706-468-1573




Fantazma and MyLow Payne proudly presents:
All have had first Shots proper worming and Basic training started. Including house training.

*Nugget is a white with chocolate spots female Sold!



*Hagen Daas is a Black and white tri colored male Sold!



Chihuahuas born September 2006 For information on this litter call 706-468-1573
These Pups have their first shots and proper worming and will be ready to go to their new home in time for Christmas.

Neenya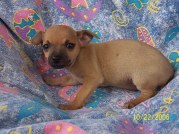 Icing
Luv SOLD!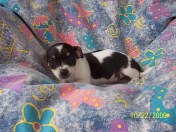 Smootches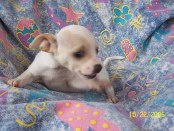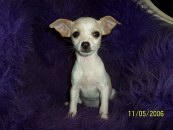 Brutus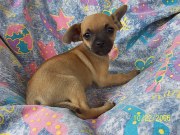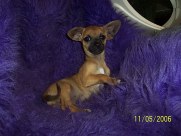 Fingers